About Us
We are the first true Wheat & Gluten Free Samosa producer in UK and the World - long before food allergen labeling became law!
We pride in making super delicious irresistible artisan quality food with it's origins from the sub-Indian continent.
Afia's is a mother and daughter team (Afia and Mum Rukhsana). We started in August 2009 with our first Farmers Market at Brindley Place, Birmingham. Since then we have grown in strength. In 2018 Mum decided to take a well deserved late retirement. Thank you Mum for all your help and encouragement over the years - love you!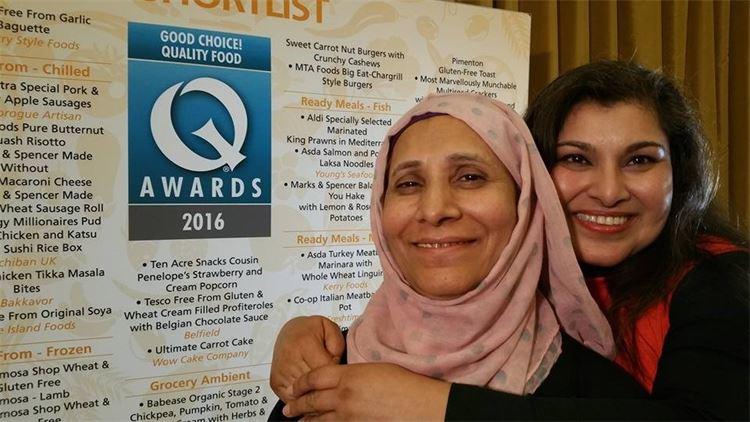 Everything about Indian food Afia knows is learned over the years since childhood at Mum's side in the kitchen.
Our customers' needs are of the utmost importance. As a result, a high percentage of our business is from repeat customers and referrals.
We welcome the opportunity to earn your trust and deliver you the best food we have to offer to tingle your taste buds.
Why Specialise in Wheat & Gluten Food?
AFIA's started in April 2009 from Mum's home kitchen as an experiment, selling fresh homemade samosas at farmers markets in Birmingham (traditional vegetable, chicken and lamb) and wheat & gluten free onion pakora (onion bhaji). From here we have increased our product range, using feedback from paying customers at the farmers markets to research and develop them into mouth watering award winning products.
Inspiration to research and develop a pastry for making Wheat & Gluten Free pastry for samosas comes from Mum.
Mum has Coeliac Disease, which means she is intolerant to the protein gluten found in many food ingredients e.g. wheat (bread, biscuits, cakes, pastry), oats, barley. Samosas are made with wheat flour pastry which naturally contains the protein gluten. With our wheat and gluten free pastry, Mum can now eat samosas that are cooked exactly in the same method as traditional wheat pastry samosas, with no compromise on great taste, texture and authenticity of the original food. Since 2014, Afia discovered she too is intolerant to wheat and gluten and a few other items.
AFIA's produces UK's first and true Wheat & Gluten Free Samosas with various meat and vegetarian / vegan fillings. In addition we make homemade pakora, Indian pickles (Achar), as well as the artisan non-gluten-free traditional pastry artisan samosa with 14 different fillings.
Our food is made where possible with locally sourced quality ingredients from around the Midlands, all hand made with home cooking method, and staying true to our family recipes.
Our Wheat & Gluten Free Samosas are made from a pastry that closely mimics the traditional wheat flour pastry i.e. deep fry at high temperature (from frozen, defrosted or fresh), deep freeze, re-heat in the microwave, cook in the oven, eat hot or cold. The samosa will not crumble when left in fridge to eat a few days later. Texture is crispy, not crumbly or hard on the teeth, and very tasty. Many customers from our regular Farmers Markets prefer the Wheat & Gluten Free pastry to our traditional handmade wheat pastry samosas for its crunchy texture.
Our research shows that currently there is no flour that can be used to make pastry that works well at high temperatures without burning and is easy to roll crispy thin i.e. oven bake and deep fry. With exception of our traditional wheat flour pastry samosas ALL our products are Wheat & Gluten Free.
For pure tasting luxury - there's no cutting corners.........We're informed many times - once tasted, definitely return for more !