Wheat & Gluten Free Spicy Beef Samosa (FROZEN UNCOOKED)



NOT Suitable For Vegetarian OR Vegan

Spicy Heat From Spices NOT Chillies
Juicy premium lean beef mince, slow cooked for melt in mouth texture, and a spicy black pepper taste, Great as a hot or cold snack; with or without chutney; add to your lunch box or picnic basket. Can serve as a starter, side dish, buffet selection, or as a hot main course with salad or vegetables. 
INGREDIENTS: beef mince (57%), onion, corn flours, spices (coriander, cumin, garlic, ginger, black pepper, chilli, turmeric), salt, fresh mint, fresh lemon juice.

CONTAINS: _____

ALLERGY ADVICE: seafood, egg, and dairy products handled in same premises using dedicated equipment. Nuts, sesame, celery and soya not used but traces maybe present through supply chain of spices.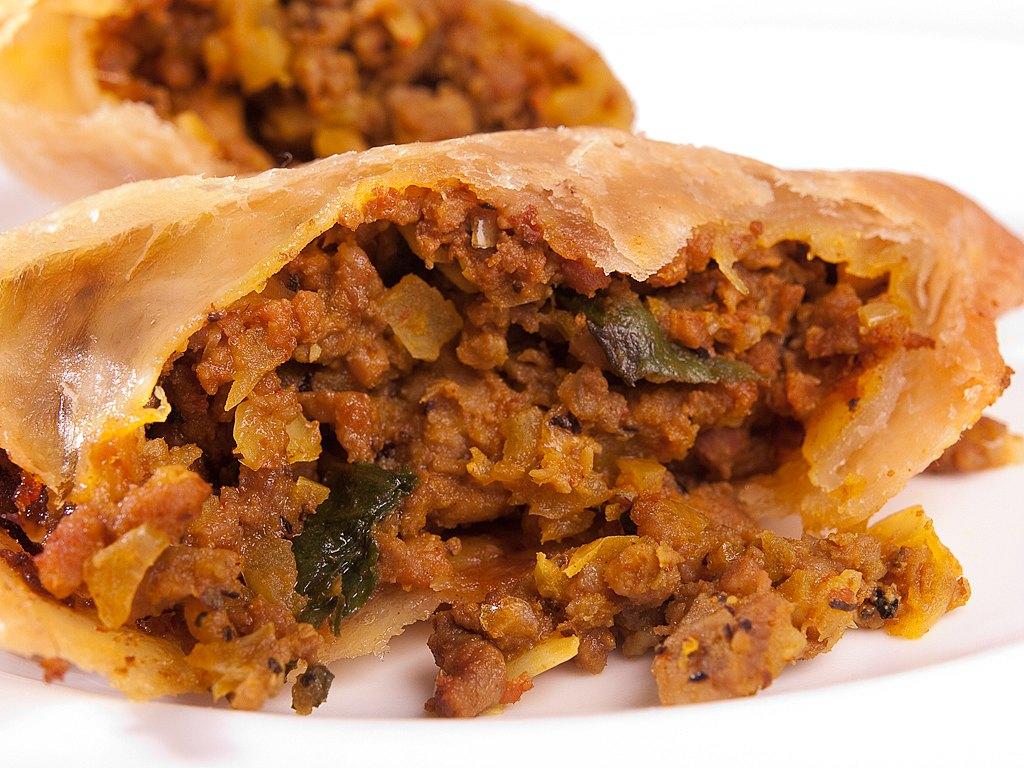 Wheat & Gluten Free Spicy Beef Samosa (FROZEN UNCOOKED)
Recommend to a friend
The details
Cooking Instructions

COOKING INSTRUCTIONS:

BEST AUTHENTIC RESULT - Deep Fry:best cook from frozen, oil MUST be medium hot (160°C -180°C), cook for 7-9 minutes, ensure filling is piping hot all the way through. Too hot oil will burn pastry; too cold oil will split open samosa.

OVEN COOKING From Frozen: Remove all packaging. Pre-heat oven 180°C. Place frozen samosa on a greased baking tray in pre-heated oven 180°C, cook for 1-minutes, remove, brush well with oil all over. Cook for ~20-25min, turning over half way. Ensure filling is piping hot.

Over cooking will dry out and shrink pastry.

COOK IN BAG - Oven Cooking From Frozen In Bag With Loose Tie: Pre-heat oven 180°C. Remove from packaging, place single frozen samosa in oven bag provided. Tie bag loosely with single metal tie provided – allow room for steam to expand. Make a few tiny slits in the middle of the bag with a scissors or knife.

Place oven bag on baking tray in oven, ensure bag won't touch the hot oven sides when expands. Cook for ~25-30-minutes. Product must be piping hot in the middle and pastry crispy golden. WARNING !!! take care from the steam in the oven bag when removing cooked samosa!!!

Over cooking in oven may dry out and burn pastry

Re-Heat Pre-Cooked Chilled: pre-heat oven 180°C, place on baking tray, re-heat for 6-8 minutes; ensure filling is piping hot.

How To Store

Storage Instructions: Keep Frozen ≤ -18°C. If thawed do not refreeze.

Refer to your freezer guideline.
Product is delivered frozen with ice sheets. Remove products from the parcel box (not the inner lining and ice sheets), and immediately place in freezer till ready to use. IF bought the preserved pickles and chutneys do not place them in the freezer! Read the storage instructions on the packs.